Have you every looked at the covers of fitness magazines, envious of the tight & toned physiques of the models?
Do you want to sculpt sexy, lean muscle of your own but have no idea where to start?
Are you frustrated and caught up in the never-ending cycle of crash diets?
More importantly, are you finally ready to ditch the excuses, lose that extra bit of stubborn weight and live the healthy lifestyle you've always dreamed of?!
This course is not open for enrollment.
You see, I.freaking.get.it...
I've been in your shoes. Spending hours in the gym, yet never quite seeing the results that I wanted. Boring myself with endless cardio. Over analyzing everything that I ate- worrying about eating too much, not enough, or just the wrong foods altogether. Feeling self-conscious about how I looked and wondering how everyone else seemed to manage their weight without issue.
But then things changed!
A few years ago, I got serious about my weight loss efforts. Once I learned the the right way to eat for my body type, my figure transformed in ways it never had. I even discovered that some of my workouts were actually sabotaging my success! Just 3 shorts months later, I achieved what I thought was impossible and transformed my body from fluff to buff!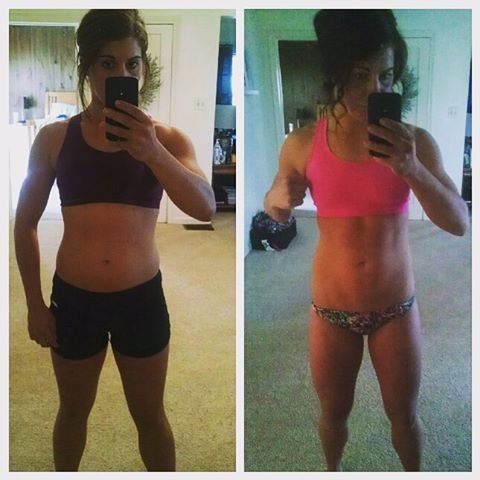 For the first time in my life, I felt a balance between staying fit and living life! And for once, I didn't follow a fad diet. I didn't deprive myself. I didn't kill myself at the gym.
Instead, I added feminine curves to my physique with lean muscle which I created from structured strength training workouts. I gave up the dieting mentality and learned how-to fuel my body so that it could operate at peak performance. And I gained confidence from finally having control over my body and how it looked!

HER Fit Body Blueprint is a 12-week total body transformation system. It's my step-by-step program to help real people like you learn how to finally achieve the body you've been dreaming of!
Included is a compilation of what I've discovered after years of struggling with my weight, as well as proven strategies that I've since learned in my years of being a Certified Personal Trainer.
Everything is written just for you, in easy to understand (not too technical) language. I give you structured strength training workouts. Easy-to-follow healthy eating guidelines. Plenty of free downloads. Access to me via email and video should you have questions along the way. Not to mention the support from a community of like-minded individuals all striving toward the same goal- to better themselves!
If you want all the perks of having a dedicated fitness professional train with you without the steep hourly rate, then HER Fit Body Blueprint is for you!

This 6-Module Instant Download Digital Course Includes:
1. Getting Started
- Learn how-to properly set achievable fitness goals-
Not just another New Year's Resolution.
- Why bathroom scales don't tell the full story &
how you should really be tracking the success of your fitness journey.
- How-to believe in yourself & become your own #1 fan!
2. The Workouts!
- Follow structured strength training workouts
designed to help you sculpt & build sexy, lean muscle
- New Workouts added by the month, so you never
get bored with your training routine again.
- Minimal cardio involved!
3. The In's and Out's of Healthy Eating
- Learn how-to eat without deprivation; fuel
your body and still see results!
- Everything you ought to know about Protein
and Carbohydrates and how it relates to you.
- Create your very own food diary- plus see what
a day in the life of eating looks like for me!
4. How Supplements Fit into the Big Picture
- Customized supplement plans for your personal needs.
- Lay the foundation with the right multi-vitamins.
- The best thing you can do for your body post workout.
- Choosing the right protein powder.
- Plus, we go over fat burners and discuss
whether they are truly right for you!
5. Rest (Why it's so dang important!)
- Develop a nightly routine that will help set you
up for success each and every day!
- Why it's not selfish to practice self-care.
- Tips on how-to sleep more restfully at night!
6. Important Resources for Your Fitness Journey!
- Hacks on how-to live healthy on a budget!
- Downloadable journal prompts for personal reflection
and to keep you motivated along the way.
- My Top 5 Fitness Rules to Live By
and more!
This course is not open for enrollment.

Having the know-how to build healthy habits and completely transform your physique.
Feeling confident again in your own skin.
Gaining strength you never knew you had & feeling proud of that hard earned lean muscle!
Understanding what healthy eating is and how to incorporate it into your own life.
Learning how supplements work and if they are truly necessary in your fitness journey.
Getting support from a dedicated trainer (me!) and being able to share your success with other individuals in a safe and positive environment.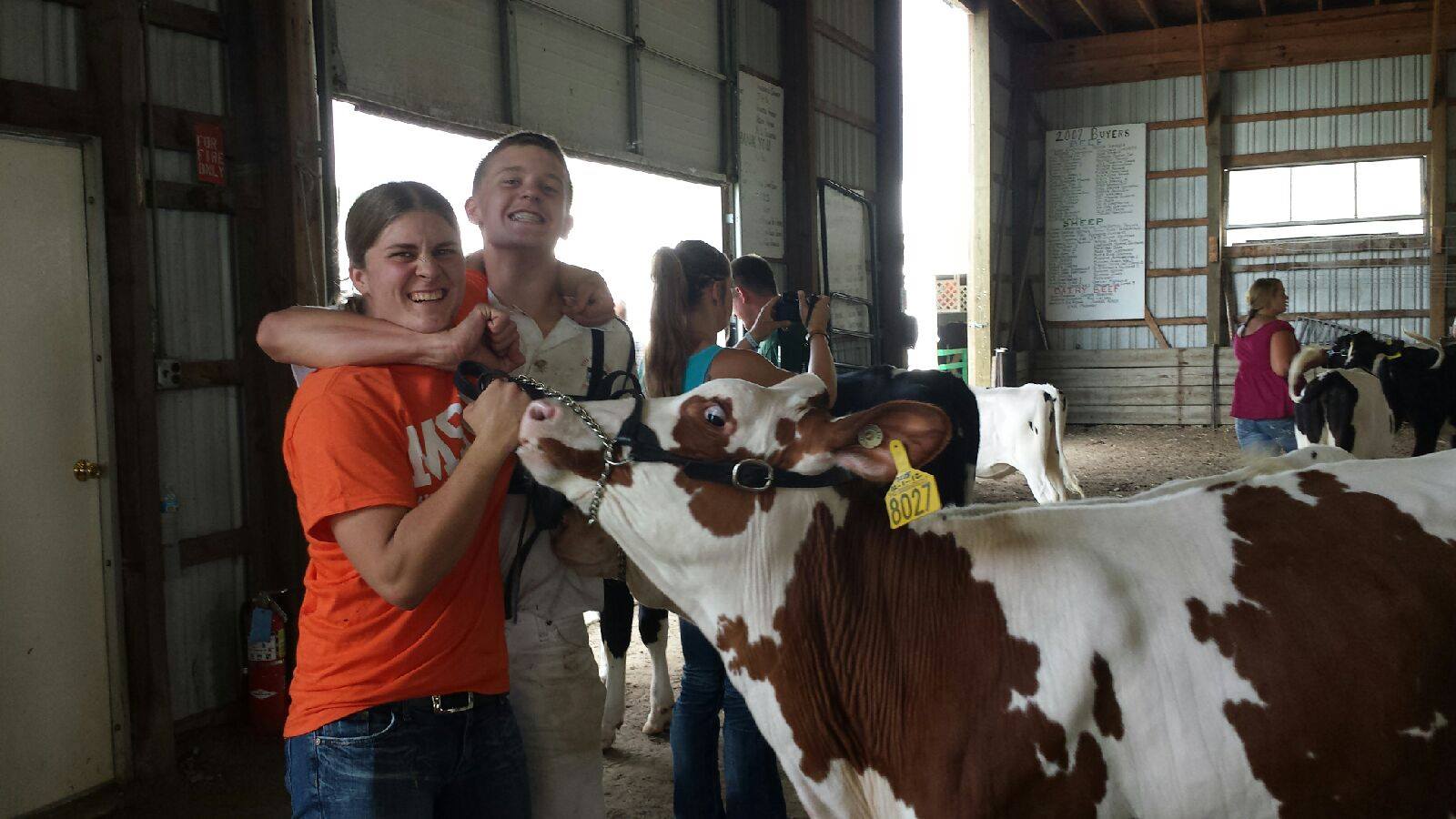 "I absolutely love having Brit as my Personal Trainer. Her workouts are tough yet not overwhelming. Thanks to her, I feel confident finding my way around the weight room and actually enjoy working-out again!"
- Ashley, Personal Training Client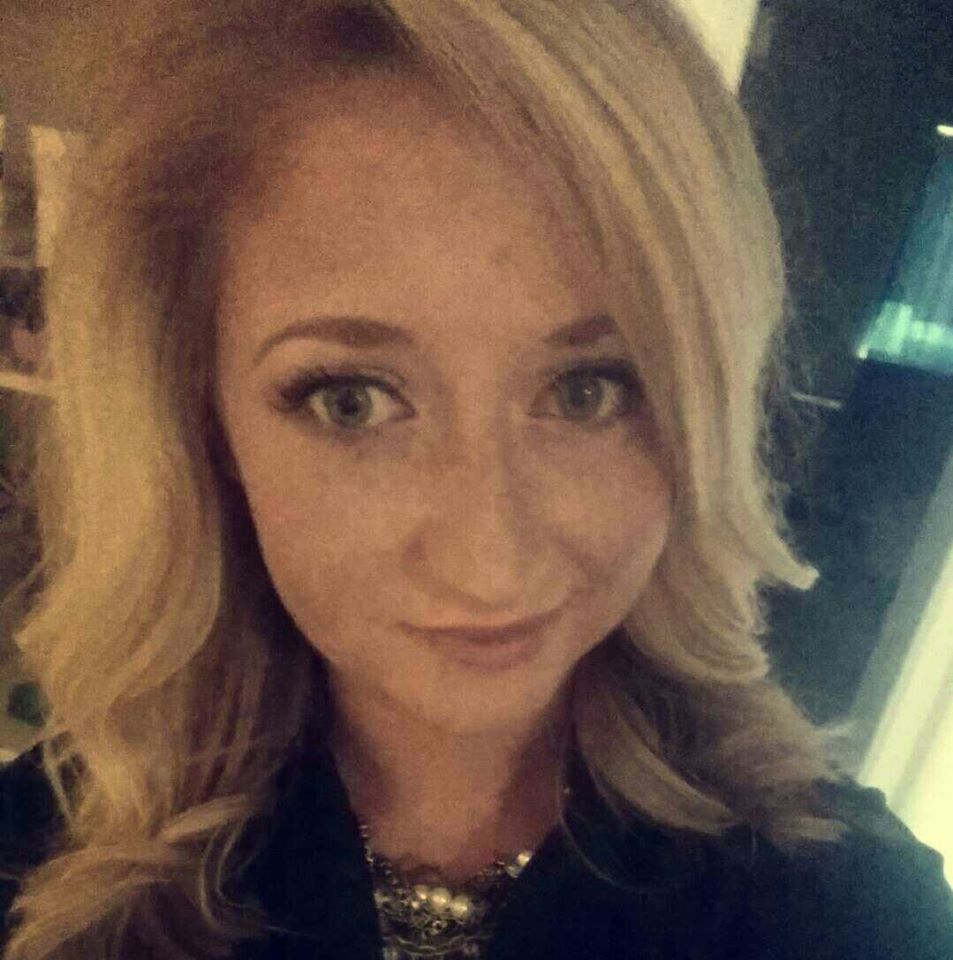 "I've tried a lot of fitness classes over the years, but never has anything given me the same results as training with Britney! I leave the gym feeling like I accomplished something rather than walking around aimlessly looking at all the equipment & machines. My only regret is that I didn't start working with Britney sooner :)"
- Malissa, Personal Training Client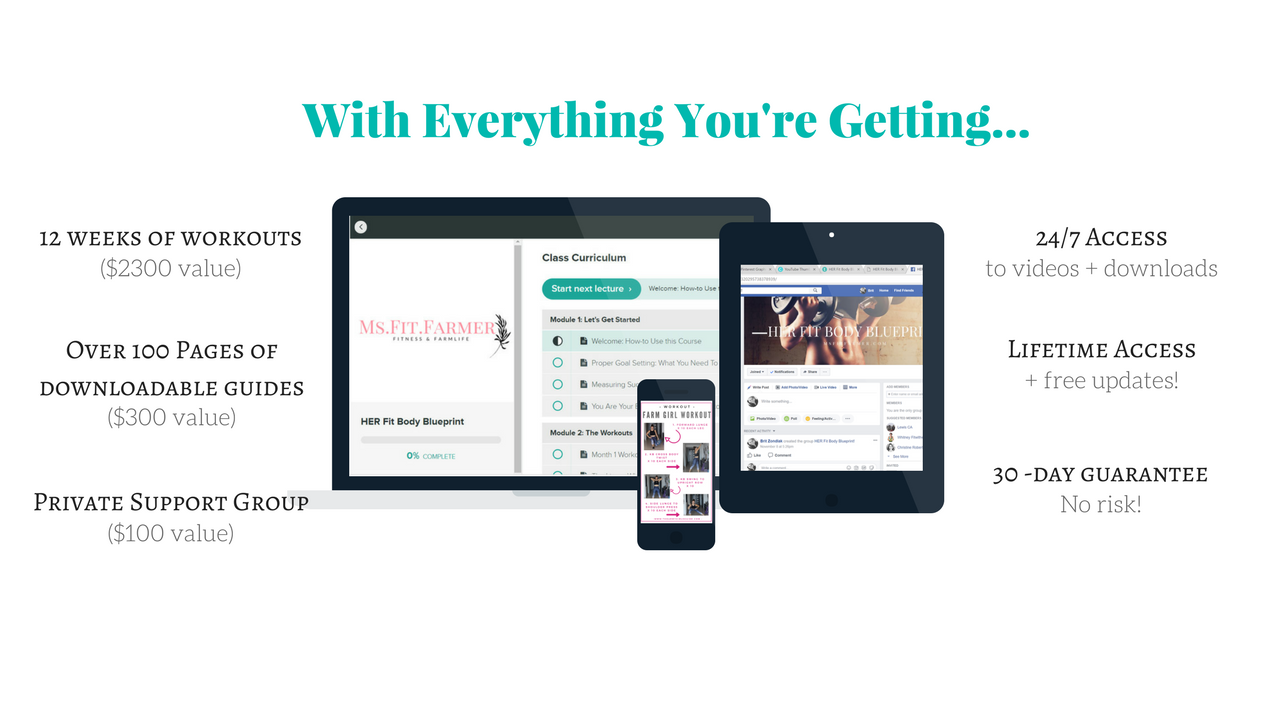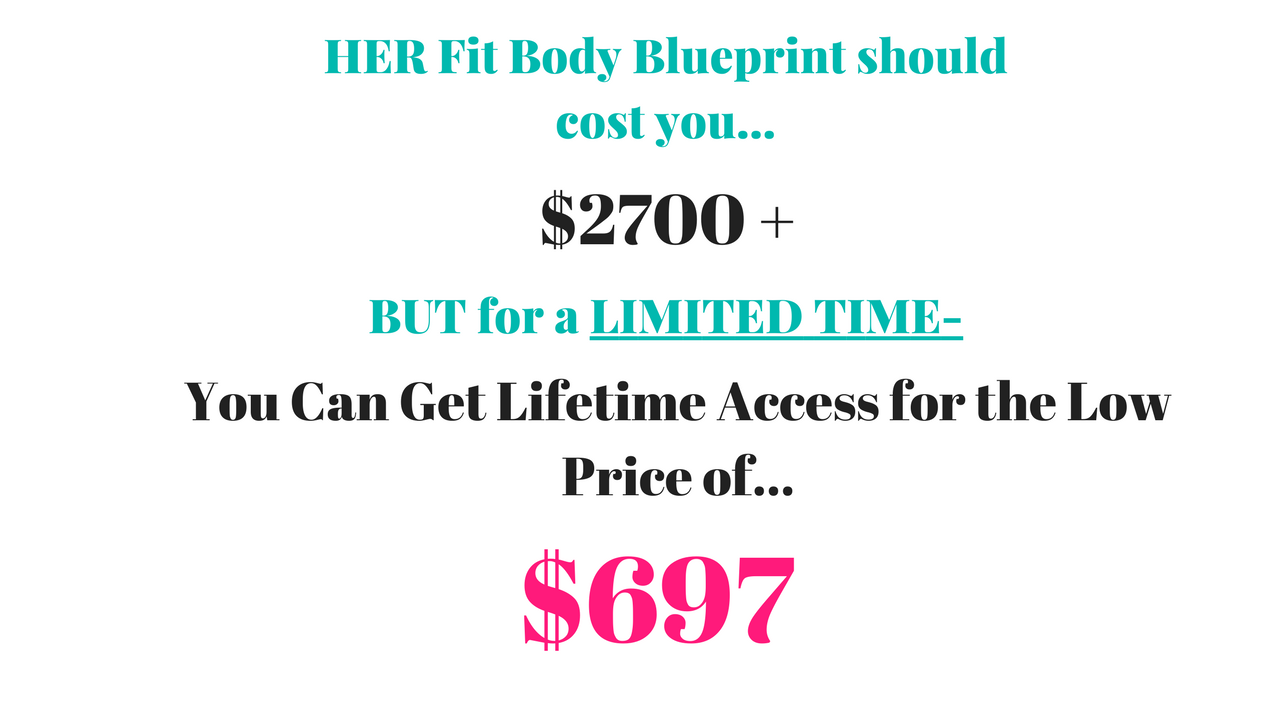 This course is not open for enrollment.
This course is not open for enrollment.
Class Curriculum
Module 1: Let's Get Started
Available in days
days after you enroll
Module 2: The Workouts
Available in days
days after you enroll
Module 3: Let's Eat! How-To Eat for Your New Lifestyle
Available in days
days after you enroll

Sign up now and receive VIP Bonuses with your enrollment!
Here's a peek of the time-sensitive bonuses you'll get when you enroll in HER Fit Body Blueprint...
1. Personalized Snail Mail Package from me!
Because who doesn't love a little old-fashion snail mail?! To get you started on your fitness journey, I'm sending you some of my favorite products that have proven beneficial in getting results. I want you to know that I am as invested in your transformation as you are- and what better way to show that than a personal package from a truly caring coach ;)
2. Your Choice of Protein Powder (Full Size Container) ($50 value)
Having the right tools in your arsenal can make the difference in expediting your weight loss results. And who doesn't want some of that?! Especially when you're just starting out in your fitness journey, it can seem daunting to invest so much into yourself- so I'm going to do it for you! I'll send you one full-size tub (your choice of flavor) of an industry-leading protein powder- I promise, it's the only protein powder I trust enough to recommend to my friends and clients. Plus, it's the only brand (1st Phorm) that I've personally relied on for years to get me the absolutely best results!
This course is not open for enrollment.
Frequently Asked Questions
When does the course start and finish?
The course starts now and never ends! It is a completely self-paced online course - you decide when you start and when you finish. You may choose to keep pace with those in the Private Support FB Group- there will be extra incentives each week for those that decide to participate ;)
How long do I have access to the course?
How does lifetime access sound? After enrolling, you have unlimited access to this course for as long as you like - across any and all devices you own.
What if I am unhappy with the course?
We would never want you to be unhappy! If you are unsatisfied with your purchase, contact us in the first 30 days and we will give you a full refund.
Can I eat Carbs?
Absolutely! In fact, I encourage it :) If you're looking for extreme methods and quick fixes, I'm not your person. If you want someone who will promise you overnight results, you've come to the wrong place. I don't have ripped abs or boulder shoulders 365 days of the year- what I do have, however, is a message of consistency, enjoyment, and quality of life. Moderation may not be sexy, but it's practical and sustainable. Within HER Fit Body Blueprint, I don't cut out entire food groups, I don't label food as "bad", and I most certainly don't believe in depriving yourself. What I do promote is the same fit techniques that have worked for me over the years- My eating habits are more flexible than ever, but I still get in my daily fruits and veggies. I enjoy a drink on occasion, and you better believe that I get my regular chocolate fix ;) You can too, if you join now...
I have another question!
Great, ask away! Send an email to britney@msfitfarmer.com and I'll be happy to answer your questions ASAP.
Your Instructor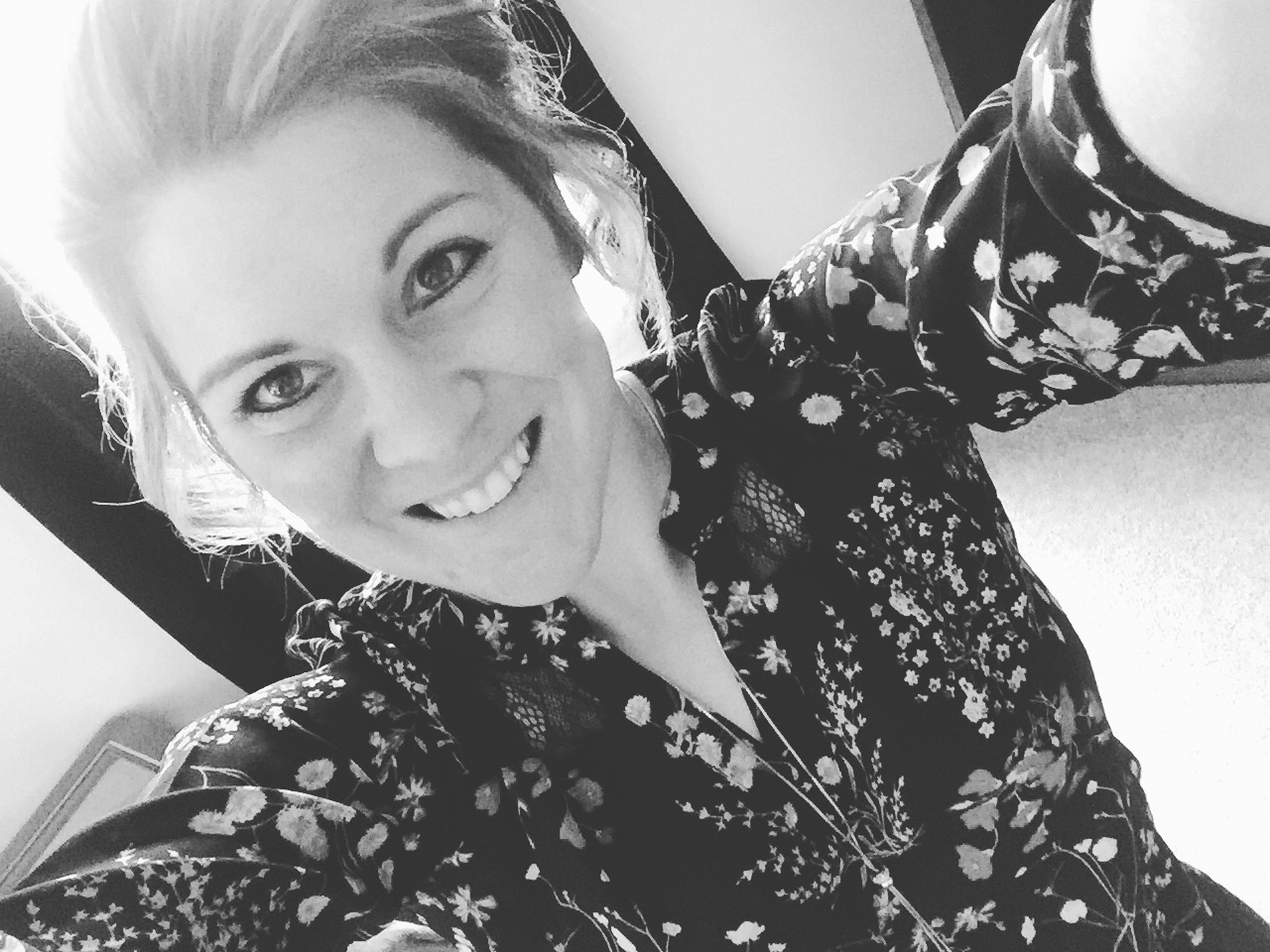 Hi! I'm a Fitness Blogger, Certified Personal Trainer, Supplement "Legionnaire" with 1st Phorm, part-time farmer ;) and creator of the HER Fit Body Blueprint, 12 Week Transformation Fitness Guide!
Fitness truly is my passion and like many of you, it's something I struggled with for years! My freshman year of college alone, I gained a whopping 30 pounds (yikes!). So trust me, when I say that I know what it's like to feel frustrated and at a loss as to how to gain control over your physique... I also know what it's like to feel lonely and afraid to start a new fitness routine- I've been there myself.
I've trained family, friends and clients for years in the gym and have now made it my mission to reach even more people through this digital e-course. If you've struggled in the past with your weight are truly willing to work at achieving the body of your dreams- allow me to teach you the same strategies that have worked for me time and time again.
In case you've missed it, here's your last chance to sign-up for this amazing offer. Remember, this is the only time you'll see this 12 week transformation course with this low introductory offer... so act fast before it's gone for good!
This course is not open for enrollment.